Traceability FAQ 
Do growers need their own company prefix issued by GS1?
No. The Grower uses the Brand Owner's number and in our case the brands are "Top 10" and "Locale."  However, if you are a brand owner and you have your own GS1 company prefix, we assign your product numbers and design your product labels to meet industry set standards for the same low price.
May I get traceability to the case level only?
No problem. We are flexible to your needs. Trace to the case only using our "Grower's Reserve" brand case labels.  Click the label below for more examples or click HERE to see how easy it is to print your own case labels using the Top 10 system.  Additional charges apply if you want to buy a printing system to print your own case labels.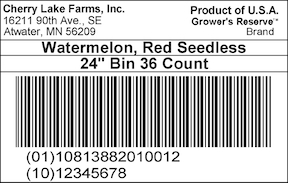 Do I have to label all of my produce?
No, you don't have to label any of your produce if you don't want to. Our growers are free to sell as much or as little as they prefer to label under our brands, and they are also free to sell under other brands, or their own brands simultaneously with our brands.  But you may find that you like labeling items (like strawberries) which are generally labeled at the consumer level.  Many of our growers find that our traceable Locale QR codes on individual items allow them to effectively market their independent farm to consumers.  An example is provided below for Locale CA0032 - Photo Courtesy Mickey Duran of Duran Farms.
Will I keep my established distributor & retail relationships?
Yes our growers' business will be business as usual in all aspects.
Does Top 10 Produce have a current GS1 company prefix certificate?
Yes.  We can provide any buyer with our current GS1 issued company prefix certificate upon request.
GS1 US is the only authorized source in the U.S. for assigning a UPC barcode company prefix. You can verify our company on the GS1 US website by following the directions below:
Go to GS1 "Search by Company Name" website
Entry our company name "Top 10 Produce LLC" (make sure the spelling is correct)
You MUST pick "United States" for the country
Press "Search" button
Can you market my produce without me losing my local appeal?
Top 10 Produce LLC unites you with other smaller growers like you into a strong, unified, national brand dedicated to smaller local growers - Top 10.  We encourage each of our Growers to maintain their individual identity.  We know that it is your family history, your commitment to quality, and your local appeal that makes our company exceptional in this industry.
Why label to the item level when the PTI only requires tracing to the Case Level?
Many retailers now require GS1 Databar labels.  We never require item label marketing, it is always the Grower's choice.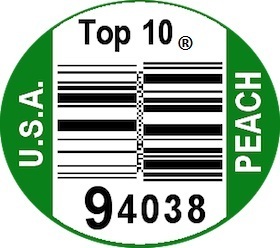 Can larger growers or brokers work with Top 10 Produce LLC?
We welcome all growers to sell under the Locale brand, so long as they are independent growers who own or lease the land on which the produce is grown.  Brokers are welcome to use our Grower's Reserve Services to get their operations PTI compliant for a fraction of the cost of other solution providers.
What is the difference between Top 10 and Locale? 
The Top 10 brand is marketed as the small farm brand and the Top 10 trademark may only be used by licensed small farms with a single location.  If you use the Locale brand, we require that you also name your farm or region on the label.  For example: Locale(tm) Miller Farm or Locale(tm) Salinas Valley. 
If you are using our GS1 barcodes, then the brand on the item, case, pallet, bag, or whatever you are labeling with that barcode has to be "Top 10", "Locale", or "Grower's Reserve".  If you are labeling to the case only you may reserve the right to use your own brand on your own items by applying our Grower's Reserve brand case labels.  Grower's Reserve on the case lets buyers know that you have reserved the right to label the items at your own discretion.  The Produce Traceability Initiative only requires tracing to the case level, so the Grower's Reserve label is fully PTI compliant. Many of our growers sell under their own brands, and use their own GS1 barcodes, and our QR codes.  We are open to whatever arrangement works best for you, to make the most of your personal brand.
Still have questions?
Al Johnsen, GS1 US Certified Barcode Consultant 
Call Al toll free at Agri Label & Tag LLC: 1-866-401-3944.
Read More: PTI primer from the University of Hawaii.